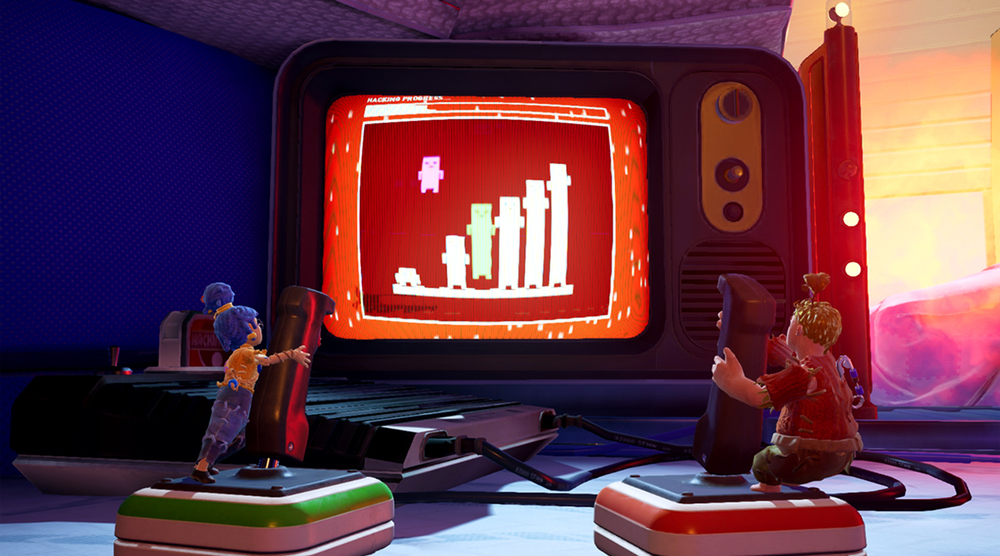 It Takes Two
It Takes Two is a running, jumping and exploring game that tells the story of a young girl, Rose, whose parents are divorcing. The girl creates two dolls to represent her parents, which unexpectedly traps the clashing couple in them. You and a friend cooperate as the dolls, each with unique abilities, to solve puzzles and help them work together, rather than pull in opposite directions.
CONTENT RATING
Bad Language,
Moderate Violence
PLAY STYLE
Multiplayer With Portable Devices In The Same Room
Multiplayer Online Cross-Platform
Asymmetrical Perspectives
The mother doll is made of wood and the father doll is made of clay. As you play you need to use their different qualities to solve each challenge. It's an existential journey that wants to land some real-world emotions about relationships, vulnerability and coping with parents splitting up.
Like other games from this developer (Brothers A Tale Of Two Sons and A Way Out), this is a co-operative adventure unique because each player has a different perspective on the action and the game is always played in split screen.
The style of play changes as you progress. But throughout it is set in a larger-than-life world from the perspective of the two dolls. Whether it is puzzle-solving, action-focused or platforming, the game leverages these interactions as metaphors for the reluctant couple saving their fractured relationship.
Some may find the simplistic approach to relationship advice a little trite. However, the beautiful setting and unusual topic offer a novel way to talk about this difficult subject that may lead to a deeper consideration of what really makes relationships break down and how we can put them back together again.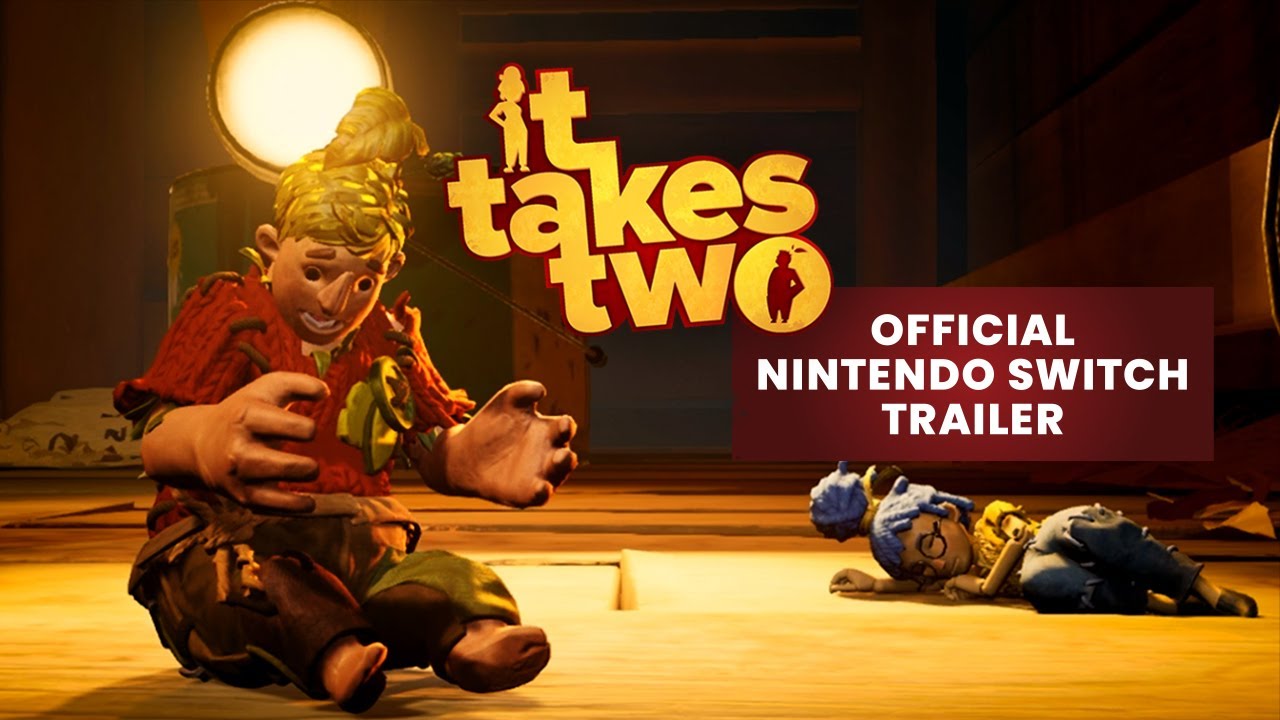 Puzzle games can help children develop their critical thinking and problem solving skills. Ask them about the choices they make to further develop these skills.
For young children, some puzzle games can support pattern recognition and spatial awareness. Encourage a range of different puzzle games to support the development of these skills.
Attention to detail is often important for these types of video games. Encourage children to slow down and think outside the box to complete challenges.
Skill level
Suggested by Family Gaming Database
The storybook look and feel appeal to really young players. Provided they have good hand-eye coordination and are willing to persevere to solve puzzles they can enjoy the game. Playing with two people enables the very young to progress more easily.
Content rating
Rated PEGI 12 for moderate violence and use of bad language. Violence is non-realistic, and no blood or injuries are shown. While some enemies can be blown up, they merely disappear in the explosion without any gory details. When the players' characters are hit, they fall over, and stars appear before they get up again. If they are defeated, they simply break apart into particles before reforming at the last save point. Sometimes the players' characters can be pinned down by their enemies. In one scene, they are briefly held captive and are repeatedly jabbed by wasps armed with spears. They wave their arms and shout while breaking apart and repeatedly reforming until their captors call off the attack. The game also includes infrequent use of bad language ('shit', 'bloody', 'pissed' and 'goddamn it'). In one scene, the player characters are required to harm and kill another toy character. They do so in order to further their mission of attempting to escape from the fantasy world in which they're trapped. While the violence has a purpose in the game's narrative, and the violence is unrealistic in nature, featuring as it does toy characters, younger children may find the toy character's frightened reaction (and powerfully voiced response) to the violence upsetting.
Accessibility
There are 27 accessibility features for
It Takes Two
Adjust Mouse/Stick/Touch Sensitivity
Multiple Buttons & Two Sticks
Rapid Repeated Pressing Optional
Remap Extra Mouse Buttons
Assisted Progress With Hints
All Dialogue is Voice Acted (Or No Speech In Game)
All Speech Subtitled (Or No Speech In Game)
Speaker Indicator and their Tone
Data by Family Gaming Database
Game details
Platforms
Xbox One, PC, PlayStation 4, PlayStation 5, Xbox Series X|S, Nintendo Switch
Release date
March 26, 2021, updated in 2022
No. of players
You can play with 1 to 2 players in the same room or as a 2-player online game.
More information: Family Gaming Database
POWER UP YOUR PRESENTS
EE can help you get everything you need from consoles, to games, to connectivity.
Other games like It Takes Two